How to use Bitwarden? Before installing Bitwarden, it will be necessary to create an account on their platform.
Create a Bitwarden account
You can create an account from the official Bitwarden website by clicking on « Create Account »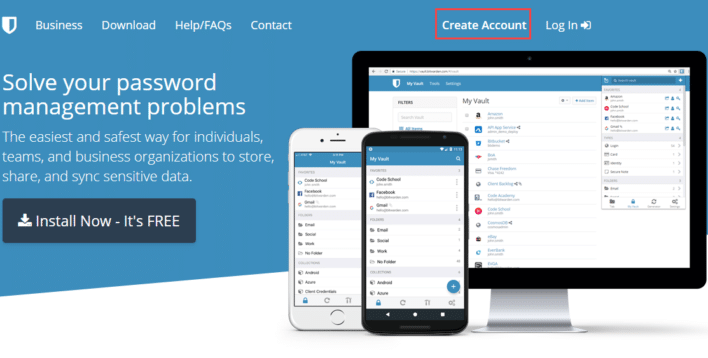 Fill in the fields of the registration form and choose a strong password. Don't hesitate to use a passphrase. However, be careful, you must be able to remember this password. This is the key to your password manager.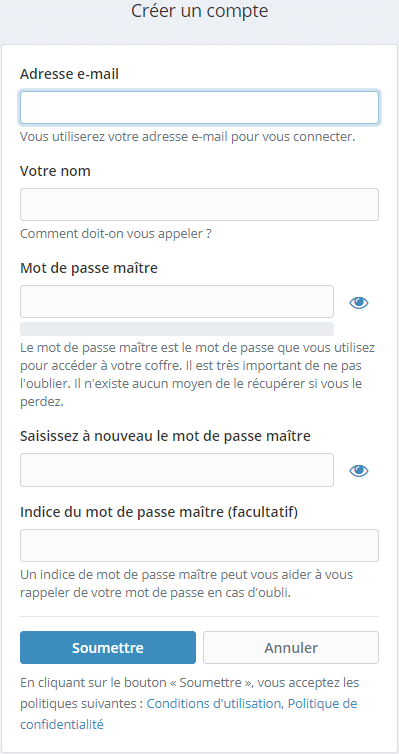 Once registration is complete, you must validate your email address. You should have a new email from Bitwarden in your inbox. You will find in this mail all the means of connections and the links to download the applications according to your needs.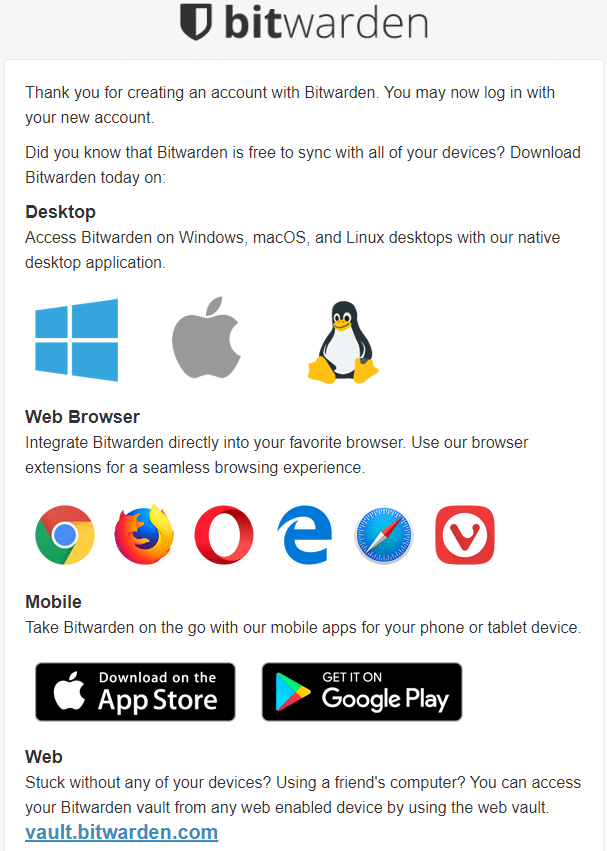 You can now log into your bitwarden account from the cloud vault via the following link : https://vault.bitwarden.com/
But of course, the ideal is to use the web extension for your browser or the smarpthone application.
Install Bitwarden on your browser
Why do I think the ideal is to use the extension for your browser? And quite simply, because it will allow you to automatically connect to all the websites where your identifiers have been registered on Bitwarden. But also to save all your passwords when you log in to websites.
Download and install Bitwarden from the Bitwarden download page, you should find your happiness since almost all browsers are there! Download Bitwarden
Once the extension or application is installed, authenticate yourself to find your password safe.
Importer vos mots de passe existants
Si vous aviez déjà un gestionnaire de mot de passe, vous pouvez commencer par un import de ces données dans Bitwarden.
Votre ancien gestionnaire de mot de passe peut être Dashlane, 1password, Keepass… ou encore simplement votre navigateur a qui vous laissiez la gestion de vos mots de passe.
Je ne vais pas vous expliquer comment exporter vos mots de passe pour chacune de ces solutions puisque Bitwarden propose déjà de nombreux guides pour ça :
De plus, sachez que vous trouverez assez facilement l'information directement depuis votre gestionnaire de mot de passe actuel.
Une fois que vous avez exporté vos mots de passe, importer les dans bitwarden depuis le menu prévu à cet effet.
Accéder à votre coffre-fort de mot de passe directement sur le site de Bitwarden : https://vault.bitwarden.com/
Après vous êtes connecté, cliquez sur « Outils« , puis « Importer des données« , enfin, sélectionnez le nom de l'application que vous utilisiez avant, puis cliquez sur « Choisir un fichier » pour finir en cliquant sur « Importer des données« .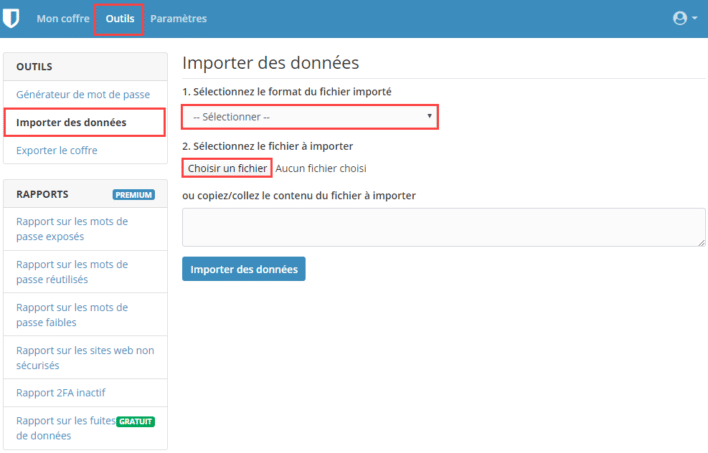 Après quelques secondes, vous devriez retrouver toutes vos données dans la partie « Mon coffre« .
Comment utiliser Bitwarden ?
Que vous utilisiez l'application windows, linux, mac ou encore les extensions pour navigateur, l'utilisation est sensiblement la même. Cependant, l'extension navigateur est tout de même plus pratique puisqu'elle permet la sauvegarde automatique de vos identifiants et mots de passe, tout comme le remplissage automatique lors de la connexion à vos sites préférés.
Nous verrons ici l'utilisation sur le navigateur Chrome. Mais cela fonctionne de la même façon pour chaque navigateur pris en charge par Bitwarden.
Une fois Bitwarden installé sur votre navigateur, vous devriez pouvoir le retrouver directement sur le navigateur. Dans notre exemple, sous chrome, le logo bitwarden s'affiche en haut à droite. Un simple clic sur le logo permet de se connecter et donc d'ouvrir le coffre-fort.
Une fois connecté vous découvrirez une interface avec quatre menus :
Onglet : Ce menu permet d'afficher les identifiants et mots de passe pour le site sur lequel vous êtes en train de naviguer. Bitwarden cherche dans votre coffre-fort et vous sort les identifiants liés au site visité. Un simple clic sur les identifiants permettra de remplir automatiquement vos identifiants sur ce site.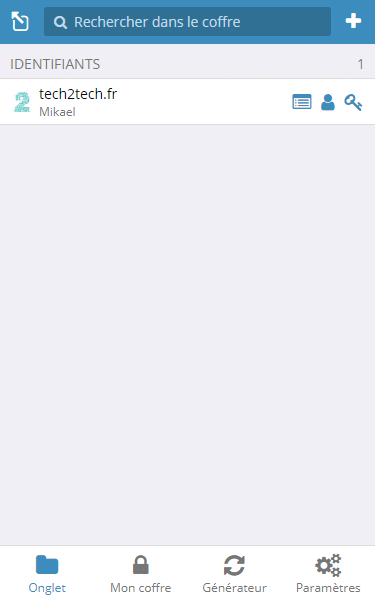 Mon Coffre : Ce menu permet d'afficher tout le contenu de votre coffre fort, identifiant, Carte de paiement, Identité, Note sécurisée.. Il est possible de créer des dossiers pour organiser votre coffre-fort numérique.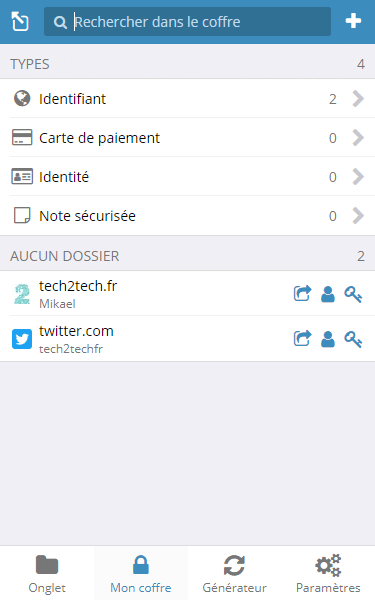 Générateur : Ce menu vous permettra de générer des mots de passe forts. Idéal, lors de la création de vos nouveaux comptes sur le web.
Paramètres : Ce dernier menu est clairement le plus complet et complexe. Il va permettre d'affiner les réglages de votre coffre-fort de mot de passe en fonction de vos besoins.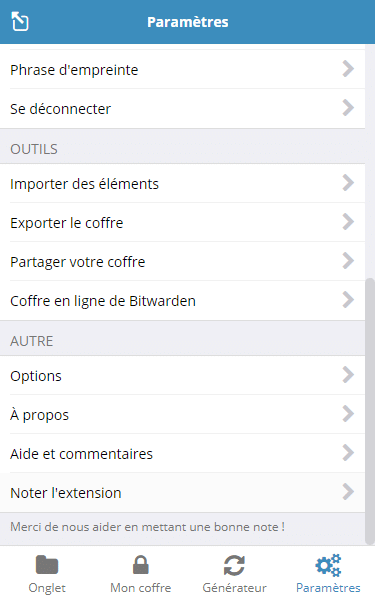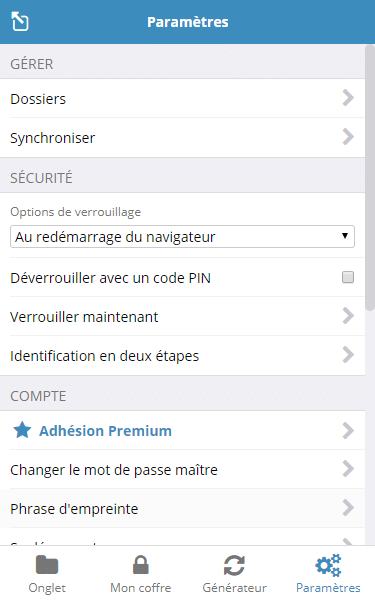 Maintenant que l'on a fait le tour de l'interface, nous allons voir comment utiliser Bitwarden sous votre navigateur. Si vous partez de zéro, et que vous n'avez pas importé vos mots de passe, alors il va falloir commencer à les ajouter à votre gestionnaire de mot de passe. Pour cela, plusieurs possibilités. Vous pouvez les ajouter manuellement, via l'import comme vu un peu plus haut, ou encore lors de la connexion à vos sites web.
En effet, lorsque vous vous connecterez ou inscrirez sur un site web, alors Bitwarden vous vous proposera d'enregistrer les identifiants et mots de passe de lui-même, via un bandeau situé en haut de votre navigateur.

Cliquez sur « Oui, mettre à jour maintenant » vous permettra alors de l'ajouter automatiquement dans votre coffre :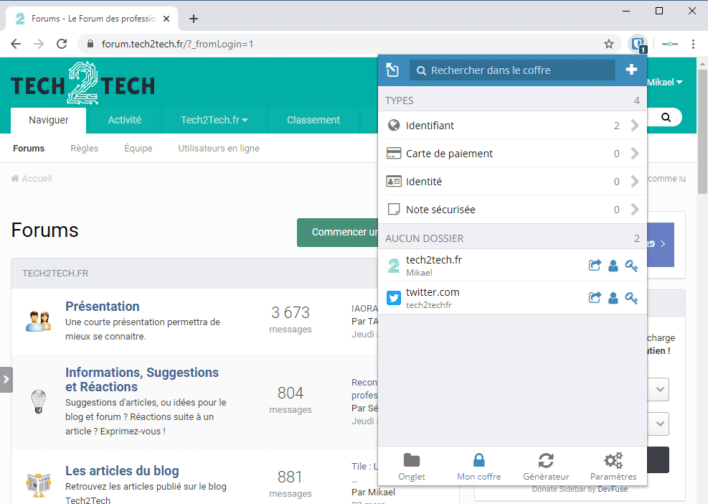 Ainsi, la prochaine fois que vous visitez ce site, vous pourrez vous reconnecter très facilement, sans avoir à entrer votre mot de passe. Cliquez simplement sur le logo Bitwarden, puis dans la catégorie « Onglet » cliquez sur votre site pour lancer la connexion automatique. C'est aussi simple que ça !
Génération de mot de passe fort
Lors de vos inscriptions sur vos sites, forums et j'en passe, n'hésitez pas à utiliser ce générateur de mots de passe. En quelques clics, vous pourrez générer un mot de passe fort et le copier dans le presse papier afin de l'utiliser lors de l'inscription.
Pour ça, toujours depuis le plug-in ou l'application Bitwarden, cliquez sur l'onglet « Générateur », sélectionnez « Générer un nouveau mot de passe » pour enfin cliquez sur « Copier le mot de passe » afin de le copier dans le presse papier.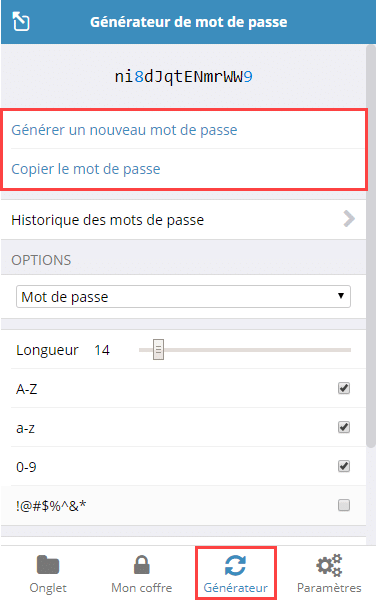 Alors, prêt à sauter le pas et d'utiliser Bitwarden ?