Streaming
Les épisodes de séries et Animes appropriés pour la période de Noël
Pire Noël – Miraculous, les aventures de Ladybug et Chat Noir
C'est Noël à Paris, un moment de générosité, de don et de temps passé en famille. Du moins, pas pour tout le monde. Adrien doit fêter son premier Noël sans sa mère, et il pense que son père n'est pas intéressé à célébrer la fête avec lui cette année, ce qui lui inspire l'idée de s'enfuir de la maison en tant que Chat Noir pour chanter sa colère dans le froid et la neige. Lorsque la nouvelle de sa disparition se répand dans tout Paris, les amis d'Adrien partent à sa recherche tandis que Marinette se transforme en Coccinelle pour chercher dans le froid et la neige le garçon qu'elle aime secrètement. Mais les choses s'aggravent lorsqu'elle provoque accidentellement l'akumatisme d'un homme habillé en Père Noël. La coccinelle et le chat noir doivent maintenant l'arrêter avant qu'il ne détruise la fête pour tout le monde.
Réalisateur : Thomas Astruc
Vedettes: Bryce Papenbrook, Cristina Cattle, Keith Silverstein, Mela Lee.
21min | Animation, Action, Aventure | Episode diffusé le 20 décembre 2016
Dreamworks : les classiques de Noël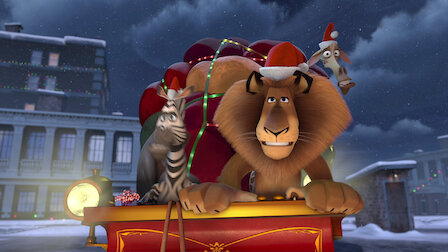 Alors que la nuit touche à sa fin, les animaux n'ont plus de poussière magique que pour un dernier voyage. Mettant de côté leur désir de rentrer chez eux, ils retournent à Madagascar pour sauver le Père Noël. Ils n'ont plus de poussière et s'écrasent sur lui, lui redonnant la mémoire. Il remercie les animaux d'avoir fait ses livraisons et retire Julien de la liste des vilains. Les animaux ont oublié un sac pour le Liechtenstein, si bien que le Père Noël passe à un réservoir de réserve pour faire le voyage avant que les animaux puissent demander à être emmenés. Les animaux décident de profiter de leur Noël à Madagascar, mais Julien jette une noix de coco à Alex pour revenir sur la liste des vilains, ce qui lui cause une bosse sur la tête et l'amnésie, comme le Père Noël avant lui.
Auteur : Ben Stiller (2011) | 1 saison | Age : Tout public
Comédie, Pour enfants, Séries comiques
1h 10min | Animation, Comédie, Famille | Vidéo 2011
Le Noël des StoryBots
Lorsque Bo pense à tort que ses amis n'aiment pas ses cadeaux, elle se rend au pôle Nord pour demander au Père Noël de l'aider à faire de meilleurs cadeaux. Elle apprend en cours de route que Noël ne se résume pas aux jouets.
Réalisateurs : Jeff Gill, Evan Spiridellis
Auteurs : Gregg Spiridellis, Evan Spiridellis
Vedettes : Judy Greer, Erin Fitzgerald, Fred Tatasciore
24min | Court métrage, famille, fantaisie | Court métrage TV 1er décembre 2017
à lire aussi : Noël 2020 : les meilleurs films à regarder sur Netflix
Le Prince de Peoria : le miracle de Noël
Prince of Peoria fait suite à « Emil, un prince de 13 ans originaire d'un riche royaume insulaire » qui « voyage aux États-Unis pour vivre incognito dans le cadre d'un échange d'étudiants » et « se lie d'une amitié improbable avec Teddy, un surdoué minutieux qui est tout le contraire d'Emil ». Tout en vivant dans l'anonymat, le prince noue une amitié improbable.
Réalisateur : Jonathan A. Rosenbaum (sous le nom de Jon Rosenbaum)
Auteurs : Devin Bunje (créé par), Nick Stanton (créé par)
Vedettes: Gavin Lewis, Theodore Barnes, Gabriel Hogan
Les Trolls: spécial Fêtes
Poppy, reine des Trolls, se rend compte que sa meilleure amie Bridget, une Bergen, n'a pas de vacances dans son calendrier. Poppy, Branch et le Snack Pack montent à bord du Caterbus Express pour se rendre à Bergen Town et prouver à quel point il est amusant de faire la fête.
Réalisateur : Joel Crawford
Rédacteurs : Josh Bycel, Jonathan Fener
Vedettes: Anna Kendrick, Justin Timberlake, Zooey Deschanel
26min | Animation, Court-métrage, Comédie | Court-métrage TV 24 novembre 2017
The post Les épisodes de séries et Animes appropriés pour la période de Noël appeared first on KamerSolution.